Austin Restoration Services from the Big Guys!
Facing disaster in Austin, TX? Big Guys Restoration is at your service 24/7, offering top-tier, swift restoration for water, fire, and mold damage & more.
BIG GUYS RESTORATION OF Austin, TX
Our IICRC-certified experts provide personalized care, ensuring your home or business in Austin, TX is restored to perfection. Trust in your local restoration leaders for quality service that brings peace of mind.
WE'RE HERE FOR YOU
The damage left by disasters like flooding or fires can be devastating. Once you are certain that your family is safe, your next priority is likely finding someone who can help you address the damage and reestablish normalcy in your home. At Big Guys Restoration, we are proud to provide our friends and neighbors with skilled, reliable damage restoration in Austin. Whether you are dealing with water damage, fire damage, or mold growth, having an IICRC-certified team of experts is non-negotiable. We have the knowledge, training, and experience necessary to handle a comprehensive range of challenges quickly and efficiently.
Ours is a team that prioritizes our customers' comfort and satisfaction above all else. We understand the stress and anxiety that comes with this level of damage to your home, which is why we make ourselves available to you 24/7. Big Guys Restoration utilizes cutting-edge technology to help restore the damage done to your home. We also provide constant support to help you navigate the complexities of insurance claims and other logistics.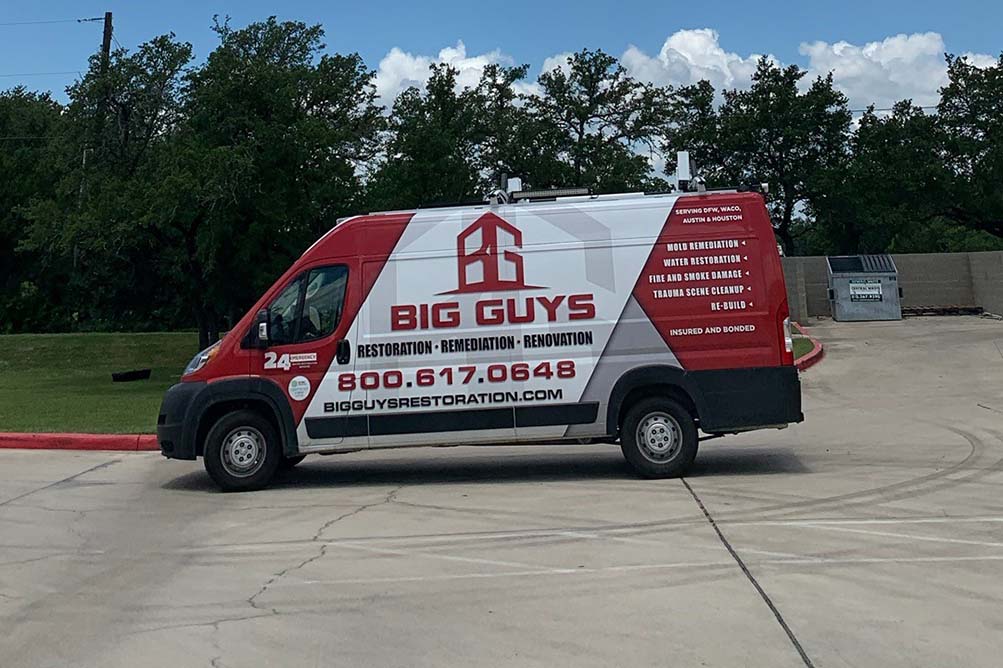 SERVICES YOU CAN COUNT ON
Our IICRC-certified experts provide personalized care, ensuring your home or business in Austin, TX is restored to perfection. Trust in your local restoration leaders for quality service that brings peace of mind.
WATER RESTORATION
Experience swift and reliable water restoration services at your doorstep. When water damage strikes, don't wait. Our team of experts is here 24/7 to mitigate the damage and restore your property to its former glory.
FIRE/SMOKE RESTORATION
When fire and smoke wreak havoc on your property, we're your trusted partner for recovery. Our dedicated professionals are equipped to handle all aspects of fire and smoke restoration.
WATERPROOFING
Prevent future water damage with our top-notch waterproofing services. With our professional waterproofing solutions, you can safeguard your property from costly repairs and maintain a dry, comfortable living environment.
FLOORING RESTORATION
Bring your damaged floors back to life with our flooring restoration services. Whether it's hardwood, tile, or carpet, our experienced professionals are equipped to repair, refinish, and restore your flooring to its original beauty.
MOLD REMOVAL
Mold can be a silent threat to your home and health. Our expert mold removal services ensure a thorough and effective elimination of mold infestations. We use eco-friendly techniques to safely remove mold and prevent its return.
MOLD INSPECTION
Protect your home from hidden mold dangers with our comprehensive mold inspections. Our certified inspectors use advanced technology to identify potential mold issues before they become major problems.
I've used Big Guys Restoration and Flooring for over a year on my carpets and antique rugs. The staff is easy to work with and my technician was on time friendly and fast. They have removed 2 stains I thought would never come out. One was a wine stain and another was a grease stain. Probably the best part of the carpet service is the eco friendly products they use. I'm picky about strong smells and they leave my house smelling fresh and clean but not over powering. Thanks Big Guys!
Extremely impressed with their dispatch/office team and effective communication. The carpet cleaner guy was amazing (I forget his name), was very courteous, respectful , delightful and WAS ON TIME!!!!! Provided tons of information and direction regarding not only pet stains but allergens and bacteria being removed from the carpets. Huge difference in appearance of my carpet and allergies! Signed up for their quarterly cleaning program.. Definitely my go to for not only carpets but grout and tile cleaning.
They were the one of the most fantastic companies I have ever hired. They made extra effort to make sure the floor was done right. I would fully recommend to anyone requiring maintenance to their floors!
We had carpet cleaning done by Andrew and Josh and they were professional, kind, and did wonders on our office carpets. 10/10 would recommend!!! We will definitely be returning customers! Everyone involved at this company is amazing! Great work Big Guys!
Christopher Simon
2022-05-11
Had Big Guys and sister company SteamDoc work on deep cleaning all my wood and tile floors. We though replacement might be needed, but the Big Guys flooring experts cleaning made the flooring look like a new install. Awesome.
Toghrul Aliyev
2022-02-09
Brandon and Freddy were very helpful & responsive
Quality & friendly customer service. I have a washable rug for my dining room. However, it's too large for our washing machine. I had the very convenient option of dropping it off. The called & emailed when it was ready.
Here's another big thumbs up for Brandon and his team at Big Guys. Had a water disaster plumbing leak that wrecked wood flooring. Brandon was one of the first on the scene in charge of the dry out process. Most impressed with the way he kept in touch, communicated what would be happening, when it would be happening and why. He and all the Big Guys were polite, professional, and careful with everything they touched. It was very nice to work with Brandon because he really cared about doing a good job and taking care of me during a very stressful event!
I hope we never have another water issue at the house, but it's nice knowing that Big Guys is there in case we do have one. They were responsive, thorough, knowledgeable, had great communication, were easy to work with, and did a great job! I would call them again in a heartbeat and I can recommend them to anyone else with full confidence. They were great!
BIG GUYS RESTORATION
Serving Homes & Businesses in the Austin, Houston, San Antonio, Georgetown, Cedar and Surrounding Areas
REQUEST A FREE ESTIMATE
Call 800-617-0648 today or complete our online form for more information!